Welcome to Okemos Brewing Radio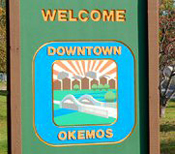 Established in the unincorporated town of Okemos, Michigan in 2008, Okemos Brewing Radio is a labor of love for founder and programmer Dan Kelley. It's a mix of classic rock -- including deep tracks that haven't been heard on FM radio in decades -- progressive rock, folk, blues, garage rock and alternative. And then there are some occasional awesome tracks from the 60s and early 70s that were heard on AM radio.

Our music collection comes from both CD and vinyl and includes hard-to-find and out-of-print material.

If you enjoy what you hear on the station, we hope you'll find it worth a small donation. Thank you

Questions? Comments? Email us at studio@okemosbrewing.com
New Music on Okemos from Chrissie Hynde
We've just added a new single by Pretenders frontwoman Chrissie Hynde to the Okemos playlist. The track "Dark Sunglasses" comes from Hynde's forthcoming solo album "Stockholm", which is set for release on June 9. So far, we think this is the best new song of 2014!

Questions? Comments? Email us at studio@okemosbrewing.com
Thanks for the Support!
Thanks going out to our latest contributors to Okemos Brewing Radio. This includes Bradly in Indian Head, Saskatchewan, Canada; David in Grand Ledge, Michigan; Gordon in Ballwin, Missouri; Ed in Arnprior, Ontario, Canada; Stephen in Cairneyhill, Fife, United Kingdom; Mike in Chelsea, Maine; Darlene in Winnipeg, Manitoba, Canada and Tom in Ranshaw, Pennsylvania. Special thanks to Tim in Lebanon, Ohio for setting up a recurring monthly donation.

Your donations are very important and much appreciated.

If just every listener made a small donation each month, the station would be self-sufficient and the commercials could go away. Even now, the commercials alone do not cover all the expense!

Questions? Comments? Email us at studio@okemosbrewing.com